Learn English Online
Google Translate is the default online translator when learning a language, however, there are other options when you want to learn English online plus tools like browser extensions that make reading English online a lot easier.  Finding someone to practise speaking English with at no cost is a common problem but we have a few websites that can help you find groups or language exchanges in your city.
TransOver
TransOver is an extension for Google Chrome that automatically translates the text on a webpage by simply hovering your mouse over the word. That means no more inconvenience copying and pasting into Google Translate or another online dictionary. I have used it for many years and while there are other options out there now, see Microsoft's Translator extension below, TransOver still works for me in my own language learning and is what I recommend to students.
You can download TransOver from here.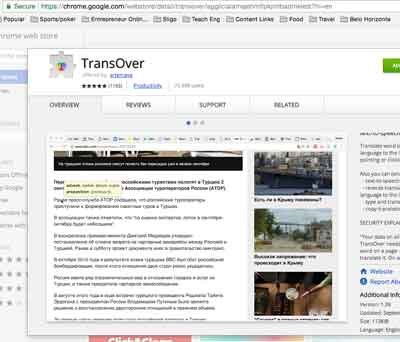 You have the option to set it up so that it translates by hovering the mouse, no clicking required which I strongly recommend, or by clicking on the word.  There are 65 languages supported at the moment, and the translation you receive is based on Google Translate.
I think there are two methods to use TransOver. One is to use it and to continue to copy vocabulary into your notes as shown below.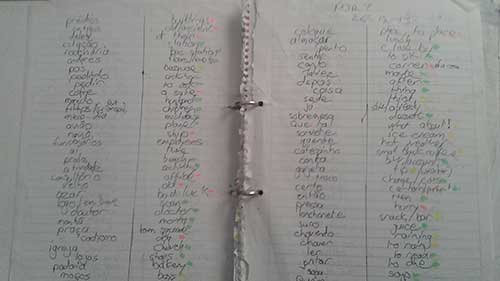 I believe this is the most effective way to learn vocabulary but it also requires the most effort, no pain no gain, so it can also feel like 'study' which can be a negative thing.
The second way is just to read articles for pleasure and not to copy the words into your notes. This should be more enjoyable and feel less like study. Eventually, the more you encounter these words from reading the more you will remember them. However, it may require that you read the word 5 or 6 times before recognising it and being able to use it naturally in conversation, which is normal.
Try both and pick the method that suits you, or mix them up for when you feel more like intensive study or when you feel like just reading what you are interested like sport, movies, gossip or whatever.
Microsoft Translator
There is also Microsoft's Translator which is an online translator similar to Google Translate and also an extension which can be added to the browser Microsoft Edge, you can see a video on its features here:
https://blogs.msdn.microsoft.com/translation/2016/03/23/microsoft-translator-extension-for-edge-now-available-to-windows-insiders/
Microsoft seem keen to have the superior technology and to improve on Google Translate and their app also translates from images taken using your smartphone's camera, which is pretty cool. It works on PC, Mac, Android and iOS.
Urban Dictionary
Urban Dictionary is an online dictionary of English slang. Like wikipedia, it is open source and group edited so you can find obscure slang from all English speaking countries.  I often use it myself as slang or expressions that are specific to one country or city can go viral as part of videos, stories or memes.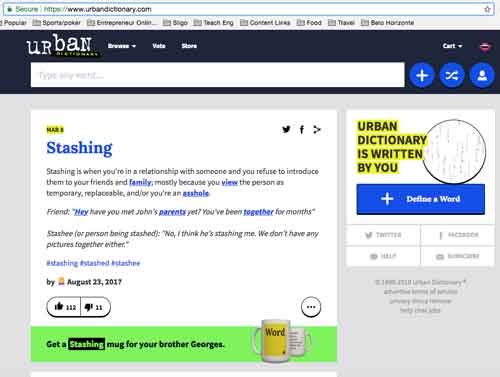 A big failing of Google Translate and other conventional online translators is that as yet they cannot understand and translate slang or expressions very well which is a common problem when you want to learn English online. If you can't get a translation using one of them you can use Urban Dictionary and then if you need to you can translate that meaning using Google Translate, Microsoft Translator or Linguee. Language is constantly changing and for informal worldwide communication Urban Dictionary is invaluable.
Conversation Classes in Your Area on Facebook, Meetup and Couchsurfing
A good way to learn to speak English and to practise English conversation is to attend meetings held in cities around the world. People usually meet up in a bar or cafe and speak only in English. A good place to find these meetings is on Facebook, search for "English Meeting *your city*". For example here is the page for the weekly meeting in Belo Horizonte, Brazil "English Meeting BH" on Facebook.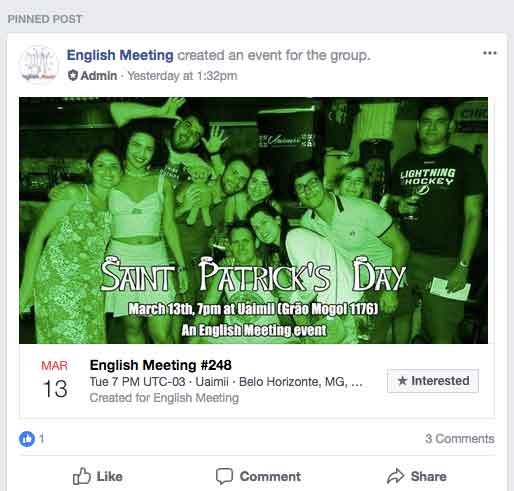 Often the times are flexible, in Belo Horizonte the meeting is on a Tuesday and starts at 7pm and finishes when the bar closes, usually around 1am. So some people arrive at 7pm and leave at 8:30pm, others might arrive at 10pm and stay until the bar closes, while others arrive at 7pm and leave at 1am so they get 6 hours of English practice! How long you stay at the meeting really is your decision.
These events are called meetings but they are not formal like a business meeting, they are friendly and welcoming so they are often called meetups. It is perfectly normal to be nervous the first time you go, they are usually held in bars so a couple of beers can help improve your conversation skills if you like and they are a great way of meeting people.
You often find native English speakers, often called "expats" short for "expatriates", as they like having a place to go to speak English when they are living abroad.
There may be a cover charge for the bar but in general, the meetings are free and I strongly recommend it to all my students. The main disadvantage is that people won't correct your English mistakes, but it is very difficult to find somewhere to speak English for 6 hours for the price of a couple of drinks.
As well as on Facebook you can find these events on couchsurfing.org, and also on meetup.com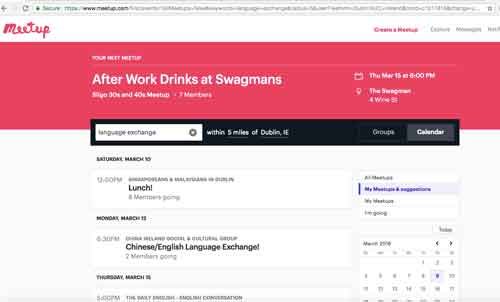 Meetup.com is hugely popular in Europe and North America and is becoming more popular in South America. People set up groups and arrange to meet up with people with the same interests. For example, there might be a photography group where people interested in photography meet up, perhaps in a park or somewhere with a great view to take photographs and talk about photography. As I say language meetups are popular where people meet up to speak only in English, French, Spanish etc.
It can be hard to meet people and to make new friends when you move abroad so this is a great resource. Also when people from one country move to an English-speaking country they tend to live and socialise with people from their home country. So you can spend more time speaking in your native language which is not good when learning English.
Language Exchanges
Another option is a language exchange, I know that these are popular in Ireland and are held in the main public library in the Ilac Centre in the city centre of Dublin, and probably around the country. As far as I know a room is set aside and people exchange language teaching/practice. For example, an Irish person wanting to learn Spanish, Portuguese, or Russian etc will go to these meetings. You will then meet up with someone from Spain, or Portugal or Russia for example. Then half the time is spent teaching, learning and practising English and the second half is spent teaching, learning and practising the other language. You can find out more information here.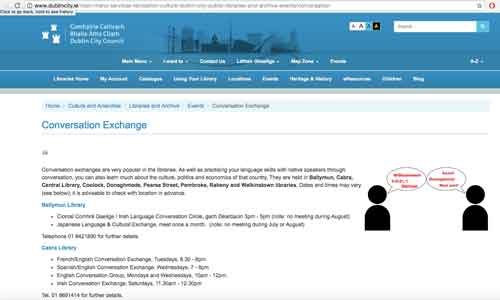 You can also read my reviews in the "Market Leader" books here and read about the difference between a professor and a teacther in here.
Or discover here about easy poems to learn English and discover here about how to learn English from scratch.
In here, you can discover how to put your English level on your CV/Resume.
You might also be interested in our video course on sale on Udemy for €29.99/69.99R$ "Eliminate the Mistakes that Portuguese Speakers Make in English". 4 hours of video exclusively for people that speak Portuguese. You can read more about it and watch free videos here.
Hope you find these resources useful, if your friends don't know about them then please share and let them know and of course, you can always leave a comment below.