What is the Difference Between TOEFL and IELTS English Exams?
They are two of the most popular exams for students of English, but what is the difference between TOEFL and IELTS exams?
In general, if you want to study abroad, especially in an English speaking country or one where you might study at a university through English, such as Holland or Germany, you might need to get a specific score in one of these tests.
What is the difference between TOEFL and IELTS English Exams?
IELTS
IELTS is a more traditional exam, it is like an ordinary language exam you do in school. It reminds me of exams I did in French when I was in secondary school [high school in the USA]
It is run by the British Council, IDP Education and Cambridge Assessment English and the official site is here.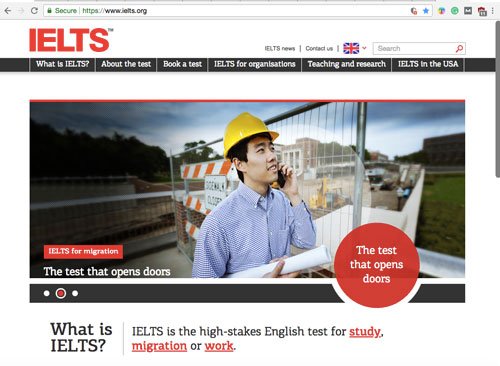 You receive a score between 1 and 9 in each section and an overall score. You can score .5 of a point, and a very common score required to enter a university is 6.5. You can see the scoring metric here.
What I [cautiously] say to students is, if you decide right now that you will do either the IELTS exam or the TOEFL exam tomorrow then you will probably get a higher score in the IELTS test or you will think that the IELTS exam is easier.
The reason for this is the speaking part in the IELTS test is a normal conversation with another person but with the TOEFL test it is different to anything you have done before so you really do need to practice it.
If you are doing the IELTS test then I strongly recommend you read my in-depth guide to the IELTS exam here.
TOEFL
TOEFL is run by ETS and their site is here. In the TOEFL exam you might read some text, then listen to audio, then speak into a microphone on a headset giving information you read and heard.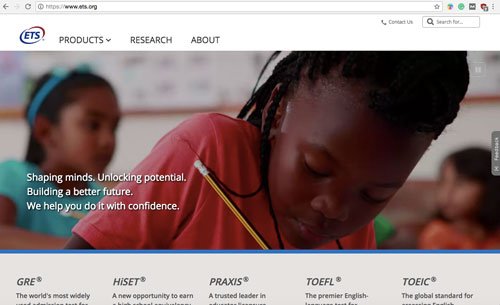 Reading, writing, speaking and listening are each worth 30 marks and you receive a total score out of 120.  In general you will probably need a score of around 80 to study abroad.
However, the TOEFL test is more popular with my students, perhaps because many wanted to study in the USA.
If you want to study the TOEFL exam then you can read my guide here which features extensive tips and strategies.
If you are thinking of taking any exam in English then an important thing to think about is why?
Why am I taking the exam?
Do you want to study abroad?
If so then the university/college will have their own specific requirements of what score you need. Some only accept a TOEFL exam score, others only IELTS but most now accept both.
In the past the IELTS test was accepted more in the UK and Europe and the TOEFL test was accepted more in North America as it is an American exam.
But you must check yourself. It seems that even different courses in the same university or even in the same department might have different exam requirements, one might want IELTS one might want TOEFL.
Are you taking an exam because you want to apply for a Visa/Passport/Citizenship?
If you are then, check the requirements. I have seen that the IELTS general exam is usually required instead of the IELTS academic exam which is good news as the general exam is a little easier.
Check the exam dates.
Also it is very important to check the exam dates and the location of exam centres. In Brazil, for example, you might have to travel to a major city to find an exam centre. Also it is very important to reserve your place many weeks before the exam. If you do not, then the exam might be full and you will not get a place.
Check the cost.
Also, cost might be a factor. If you have the option of doing either exam then students may choose to study the cheapest. I don't think you should decide on price alone but it is a factor to consider.
You will receive your results around 10 days after doing the exams, so you need to consider this if there is a deadline for something you are applying for something that requires your score.
You can find details here, in Brazil the current cost is around R$840 for the IELTS exam.
TOEFL tests happen around 30 or 40 times a year and cost around US$215 in Brazil, but it depends on your country.
A huge number of students used to take these exams in Brazil when the Ciencia Sem Fronteras program was very active. Sadly that program is not the same as it was due to government cutbacks but many students still take one of these exams every year.
Tips and advice for TOEFL and IELTS exams
I have taught the TOEFL and IELTS tests to many students over the years I have prepared an extensive guide on the IELTS test here and also on the TOEFL exam here that every student who is studying these exams should read.
You can also read and discover here about English Schools in Cork (Ireland). 
Or read here my review of the IELTS exam material. 
Here are some general tips and answers to Frequently Asked Questions I get from my students in class:
In general, the teacher is there to teach you how to do the exam. They are not there to spend time teaching you the English language or to correct basic errors. Your English needs to be good already and if it isn't then you probably are not ready to do the exam yet. A teacher like myself will then show you exam technique.
Give yourself plenty of time to study. I received queries from people saying "Hey! I'm doing my TOEFL [or IELTS] speaking tomorrow, can I schedule a class today?"
I recommend around 12 weeks to study, that way you won't panic. 8 weeks is ok too, anything less than that is a bad idea. However, it does depend on your level of English. If your English is excellent then you won't need to prepare that much, but for the majority of students, 12 weeks is ideal.
Both the IELTS and TOEFL exam tests your reading, listening, speaking and writing.
In general, I don't teach the listening or reading parts and I think any sensible teacher is the same. You can practise the listening and reading exams at home. I only teach the writing and speaking parts in class.
Both the IELTS and TOEFL exam scores are only valid for 2 years. After 2 years if you are applying for something and need a valid TOEFL or IELTS score you must take the exam again. Why? Honestly, I think it's simply a way to make more money. For example, the Cambridge First Certificate of English is for life, you only need to get your score once.
You might also be interested in our video course on sale on Udemy for €29.99/69.99R$ "Eliminate the Mistakes that Portuguese Speakers Make in English". 4 hours of video exclusively for people that speak Portuguese. You can read more about it and watch free videos here.
You can also read here about how to put your English level on your CV/Resume.
Have you taken the IELTS or TOEFL exam?  Any tips or resources you would like to share?  Leave a comment below!